Full Sail Wassail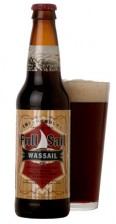 From Full Sail: A few unmistakable signs tell us when winter has arrived here in Hood River. The waterfalls in the Gorge start kicking out the jams. The snow report for the backcountry regains its hold over us. And the Wassail starts flowing once again. We've brewed Wassail every holiday season since 1988,and it's now as much a part of the festivities as sharing a roaring fire with our closest family and friends. A deep mahogany color, Wassail is brewed with four different malts and a blend of Pacific Northwest hops, giving it a malty full body and a pleasantly hoppy finish that appeals to both hop and malt lovers alike. In other words, a Christmas miracle.
Full Sail Brewing Co. – Full Sail Wassail Ale – 12 oz bottle poured into a pint glass. 7% abv. Purchased at Trader Joes, Lake Avenue Pasadena, CA.

Appearance: A dark maroon with a nice 1 inch fluffy tan head.
Aroma: Caramel, brown sugar, resinous hops and bread crust.
Taste: Bitter hops, brown sugar, tart apple skin, dark chocolate.
Mouthfeel: A tad astringent from the bitter hops, very heavy in the sip.
Overall: My ideal winter warmer, a very heavy, warming, complex holiday beer.  The warmer the beer gets, the more fun things come out of it.