Full Sail Spotless IPA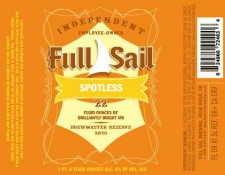 From Full Sail Brewing – Continuing our summer sun series, Spotless is named to honor our sun that has been spotless for over a year. This aggressive IPA has a rich golden color with a fruity finish. The beer is well hopped to 70 with Willamette and Zeus hops lending the beer a bright bitterness and a rich hop flavor.
Full Sail Brewing – Full Sail Spotless IPA – 22 oz. bomber poured into a pint glass. 6.5% abv Consumed shortly after it was bottled in Summer 2010.
Appearance: Pours a bright clear copper amber with a frothy tan film of foam.
Aroma: Big grassy hops and slight lemon and catty notes as well.
Taste: That signature metallic bitter taste from Full Sail, I believe it to be the yeast, grassy hops, a little bit of honey like malt and a tad bit of citrus. Finishes very bitter.
Mouthfeel: Medium bodied and fairly carbonated.
Overall: It's big, it's bitter, but it's not my favorite varieties of hops.  I'd love to hear the locals weigh in on this beer.