Full Sail LTD 06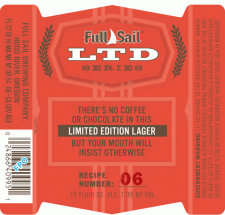 From Full Sail Brewing – A new holiday beer for our Limited Edition Lager series. LTD 06 is a black bock that is lush and full bodied with hints of roast, coffee, and chocolate in the aroma followed by flavors of caramel and figs with a long creamy smooth finish. LTD 06 is brewed as a Czech style Cerné Speciální with 2 row Pale, Munich, Caramel, and Chocolate Malts and hopped with Santiam and Perle hops. ABV 7.0% IBU 34
Full Sail Brewing – Full Sail LTD 06 – 12 oz. bottle poured into a goblet. 7.0% abv.
Appearance:  Pours dark brown, letting no light through.  Not much of a head, but a ring of tan froth around the edges and a few tan swirls looking down.
Aroma:  Roasted malt, slight wet dog, walnuts, chocolate.
Taste:  Roasted and toasty malt, spicy hops, a little sour twang in the middle. A touch of coffee. Finishes with long roast and hop spice.
Mouthfeel:  Full bodied with moderate carbonation.
Overall:  Pretty tasty, very bold, and a great edition to this craft lager series.