Full Sail Bump in the Night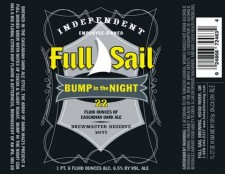 From Full Sail Brewing – Brewed in the Cascadian Dark Ale style, the array of dark malts present a full bodied brew with notes of cocoa & slight roast. Bump in the Night CDA has a big floral citrus hop flavor & bitterness, reminiscent of an IPA.
Full Sail Brewing – Full Sail Bump in the Night – 22 oz. bottle poured into a goblet. 6.5% abv.
Appearance: Pours a dark brown/midnight red with a small gathering of white froth after the head quickly subsides.
Aroma: A bouquet of herbal and dank dry hopping and slight roast. Also a whiff of mint tums.
Taste: Abrasive grapefruit and pine hops, full sail house yeast and burnt roast.
Mouthfeel: Full bodied and creamy.
Overall: One of the better Black IPAs out there. Not too roasty, with a big dank nose.