Flying Dog Wildeman Farmhouse IPA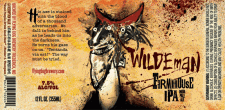 From Flying Dog – A recipe originally brewed for the 25th anniversary of Amsterdam's In de Wildeman, we are now unleashing this beast of a Farmhouse IPA on the U.S.. Unfiltered and hazy gold in color, Wildeman begins with notes of citrus and spice on the nose, followed by potent hop flavor. This extreme bitterness is balanced by light malt highlights and finishes dry, crisp, and with a slight hint of acidity.
Flying Dog Brewery – Flying Dog Wildeman Farmhouse IPA – 12 oz. bottle poured into a goblet. 7.5% abv.
Appearance:  Pours a hazy yellow gold with a creamy white cap of film atop. Within the body you will see rising bubbles and a little bit of suspended yeast.
Aroma: Mens cologne, fruity yeast,honey.
Taste: Dry malt, spicy fuity yeast and sharp bitter hops in the finish.
Mouthfeel: Full bodied with prickly carbonation.
Overall:  A very nice farmhouse style ale. Very balanced and flavorful.