Flying Dog Wild Dog Secret Stash Harvest Ale 2011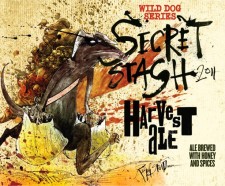 From Flying Dog – Whether it's a diet-breaking bag of cookies, dinner rolls in an 80 year old's purse, money in the mattress, or Willie Nelson's back pocket, everyone has a secret stash. For us, it's the locally-sourced ingredients we're using in our Secret Stash Harvest Ale. A celebration of Maryland's agricultural roots, each years batch will be a little different. And we've found the perfect person to share our stash with.  2011 – This year, we're using fresh Cascade and Chinook hops balanced with soft red wheat, sweet corn, potatoes, and honey.
Flying Dog Brewery – Flying Dog Wild Dog Secret Stash Harvest Ale 2011 – 12 oz. bottle poured into a goblet. 5.5% abv.
Appearance: Pours a bright yellow gols with a retaining thin white cap.
Aroma: Belgian like yeast. Honey.
Taste: Spicy metallic yeast. Fruity esters. Euro hop bitterness. Banana in the finish.
Mouthfeel:  High carbonation, thin body.
Overall: I didn't enjoy this beer. It was a one off experiment using local ingredients, it's not cost prohibitive, so you should still give it a try.