Flying Dog Imperial IPA – Single Hop Chinook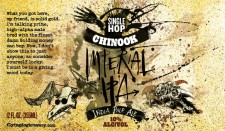 From Flying Dog – What you got here my friend, is solid gold. I'm talking prime, high-alpha make bred with the finest damn Golding money can buy. Now, I don't show this to just anyone, so consider yourself lucky. I must be in a giving mood today.
Flying Dog Brewery – Flying Dog Imperial IPA – Chinook Single Hop – 12 oz. bottle poured into a goblet. 10% abv.
Appearance: Pours a hazy orange with a thick fluffy beige head.
Aroma: Grapefruit pine resin, pineapple.
Taste: Big piny bitternrss, slight grapefruit, spicy dry malt long bitter hoppy finish. As it warms, some caramel comes through too.
Mouthfeel: Full bodied rough carbonation.
Overall:  Not sure if the base beer of this series gets altered by the hop additions, but this beer is night and day better than the El Dorado edition. This has a great mouthfeel and a wonderful hop profile. Great job.