Flying Dog Imperial IPA – Simcoe Single Hop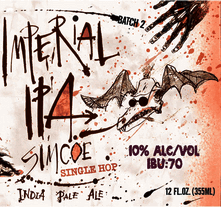 From Flying Dog – While that damn Dionysus was taking all the glory, Simcoe, Greek God of Beer and Relaxation, was out, diligently developing tools for man to brew- fresh grain and hops, active yeast, and bountiful water. With its golden glow and sharp hop bite, our Imperial Single Hop IPA is a tribute to this lesser-known God (and as temple-worthy as its namesake).
Flying Dog Brewery – Flying Dog Imperial IPA – Simcoe Single Hop – 12 oz. bottle poured into a goblet. 10% abv.
Appearance: Pours amber orange with a thin cap of white cream.
Aroma: Grapefruit, tangerine, floral hop nose. Spicy and sweet malt and some apparent alcohol.
Taste: A huge mouthful of bitter hops, some tropical flavors mixed with modestly sweet malt. Has a fruity piny finish.
Mouthfeel: Full bodied, juicy. Mild carbonation.
Overall: A very nice showcase of Simcoe as not only the aroma hop that I love, but the bittering hop as well. Reminded me of a PNW IPA.