Firestone XVI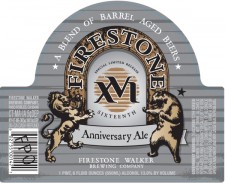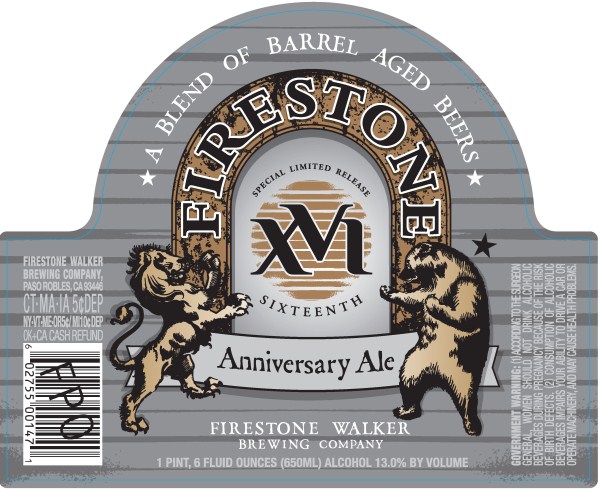 From our long time contributor and supporter Don from Maryland. 
Waited a long time to get my hands on a bottle, so I figured I'd actually review it.
22 oz Firestone Walker 16th Anniversary Ale, purchased from Dawson's Liquors in Severna Park, MD, the first half of the bottle was poured into an 18 oz. Reidel specialty beer glass, the second half was poured into a large red wine goblet and allowed to open up for about an hour while I drank the first glass. 
Appearance: 
1st glass- Mahogany with a thick, taupe foam head. Great head retention.
2nd glass – No difference except that the head had disipated.
Aroma: 
1st glass – Lots going on here. You have to dig past lots of molasses and sweetbreads to get to subtle notes of cinnamon, dried fruit, and a hint of cedar.
2nd glass – The sweetness has mellowed a bit and English toffee and hints of cocoa powder have come through.
Taste:
1st glass – Very sweet dark brown sugar on the tongue, but not off-putting. Prunes and dates are quickly followed by a lingering roasty and hoppy bitterness. Really have to stretch to find the citrus from the Wooky Jack, but it's there at the very end. The longer you wait between sips, the more citrus comes through. Hard to find the coffee and chocolate notes that are said to be present.
2nd glass – Reflects the nose; the sweetness has mellowed and more roasted malt, a bit of bittersweet chocolate and a trace of coffee are present on the tongue. The higher percentage of stout is more evident here as the dried fruits have faded into the background and the citrus is nearly lost.
Mouthfeel: 
1st glass – Thick and viscous, the flavors cling to your entire mouth long after you have swallowed. Light carbonation that doesn't distract from your search for more flavors.
2nd glass – The warmer temperature lent a tad more fizz, but relatively unaffected by time.
Overall: The XVI is supposed to be very similar to the XV, but heavier on stout in the blend. I was pleased to find that the stout flavors did not displace any of the dried fruit flavors and aromas from the XV, but rather provided them with a clean backdrop… at least at first. It is still a tremendous beer even if some of my favorite flavors disappeared after the first glass. I can appreciate the differences between this and the XV and eagerly await next year's XVII. Top beer of 2012 (or 2013, for me), in my opinion.