FiftyFifty Eclipse Imperial Stout 2011 – Elijah Craig 12 Year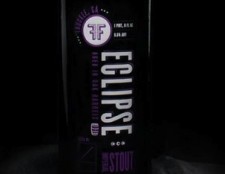 From FiftyFifty – To become Eclipse, Totality is then aged for a minimum of 180 days in oak bourbon barrels. This time spent adds a plethora of flavors to the already rich Imperial Stout. At first taste there is a large presence of dark chocolate, espresso and warmth from the alcohol of the beer. Oak barrel character then comes into play with hints of vanilla and coconut, followed by mild bitterness from the hops, and then a nice long lingering finish with hints of tobacco, dark dried fruit and more chocolate. Eclipse is a wonderful companion with dessert. A beer meant for contemplation best enjoyed in a snifter and with a friend.
FiftyFifty Brewing – FiftyFifty Eclipse Imperial Stout 2011 – On tap at Library Ale House Santa Monica, CA – 10% abv.
Appearance: Pours dark brown with a quickly subsided head.
Aroma: Alcohol, roast, coconut. Sherry, dark chocolate.
Taste: Wood, roast, ash, bourbon.
Mouthfeel:  Medium bodied ,low carbonation.
Overall: I had this at the first of my horizontal. Tasty as always with Elcipse.