Reviewed: El Segundo Citra Pale Ale
Product description: A straight forward American Pale Ale. American two-row barley, a touch of vienna malt. Then, an irresponsible amount of dry-hopping with Citra for a unique aromatic experience. Pour vivaciously into your favorite tapered glass to fully enjoy.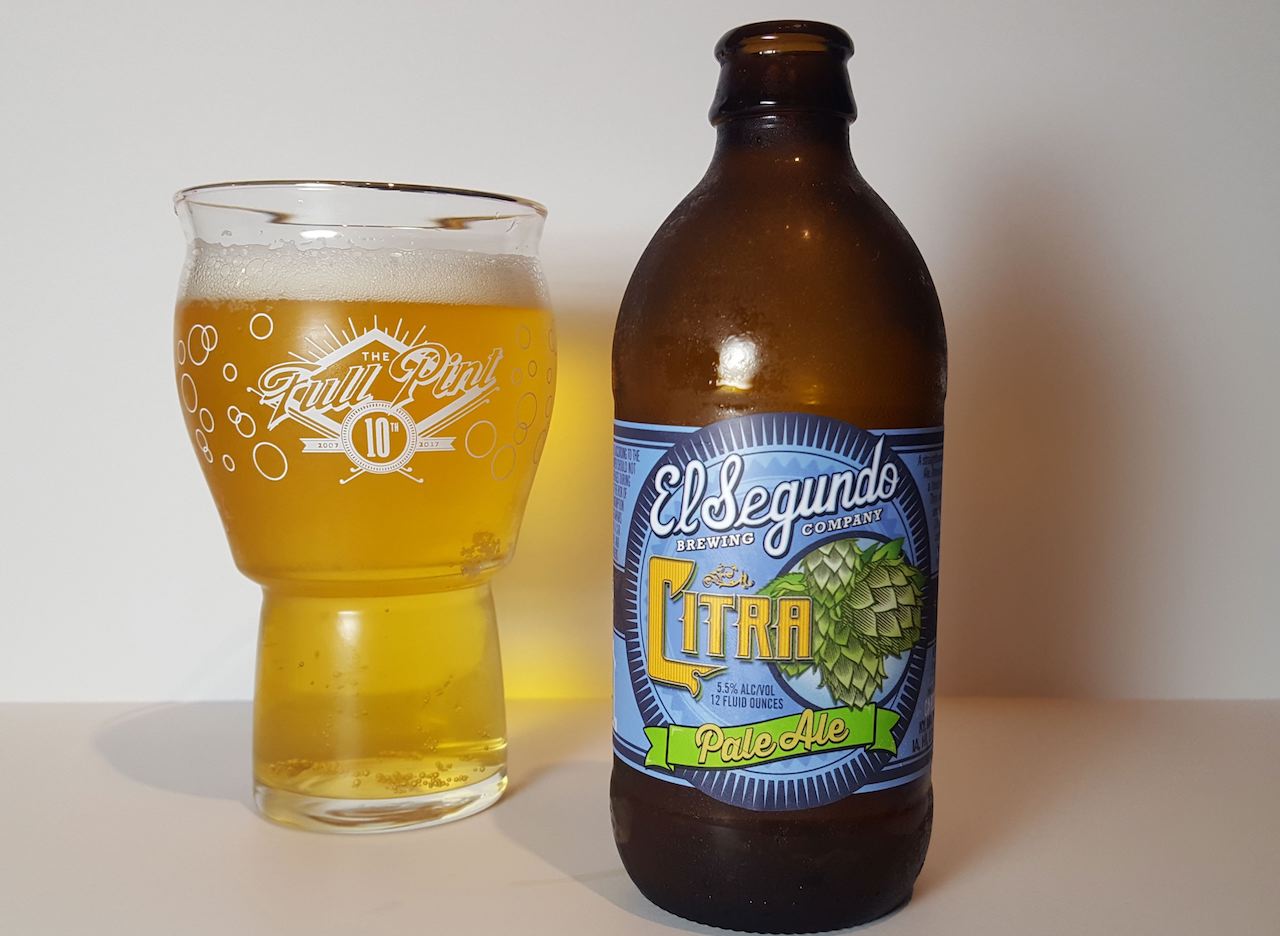 El Segundo Brewing – El Segundo Citra Pale Ale – 12 oz. bottle poured into specialty glassware. 5.5% abv.
From a two-week-old stubby, Red Stripe looking bottle, El Segundo Citra is bright, clear straw-colored with heavy carbonation. Excellent white foam erupts and sticks around for a good while. I'm a big fan of El Segundo's new bottle design. The bottled-on date is clearly visible, I like the stubby glass, and even the periwinkle bottle caps are great with alternating designs within the 6-pack. This whole package is a major upgrade from the 22oz bomber offering.
The aroma here is juicy pineapple, lemon balm, mint, green mango, green banana, honeysuckle, jasmine. It becomes intensely floral and complex. Warming up, it segues to wet dough and clarified butter, but it's nothing nefarious like diacetyl. The flavor starts crisp and well-balanced with medium bitterness and just a touch of sugar and white bready malt. The mid-palate is a touch oily and rich (maybe from the Vienna malt addition) with enough malt richness to keep it perfectly balanced. The finish is then quick and dry making for a super refreshing beer.
Overall, this is a great example of a modern APA that I wish more brewers would emulate. Aroma hops dominate and bitterness is not overdone at only 38 IBUs. But the real standout is the silky, rich malt base, which shows a lot of technical know-how. For those that usually shy away from hop bombs or abrasively bitter beers, El Segundo Citra allows you to enjoy all the best hop aromas and flavors in an easy-drinking, simple vehicle.