Eagle Rock Equinox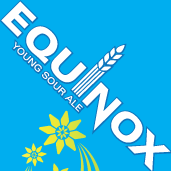 From Eagle Rock Brewery – As the winter thaws and the daylight hours lengthen enough to balance with the night, it reminds us all that spring is in the air. The aroma of citrus, and the taste of Muscat grapes, starfruit and freshly cut grass are a refreshing blend in this young sour ale. The perfect balance of sweetness, an intriguing tartness, and subtle hop bitterness are like a cool spring breeze in the warmth of the sun.
Eagle Rock Brewery – Eagle Rock Equinox – On tap at Tony's Darts Away in Burbank – 6.6% abv.
Appearance: Pours a cloudy pastel yellow with a creamy thin cap of white atop. Leaves sparse sudsy lacing.
Aroma: Fresh lemon and lemon drop candy.
Taste: Lemon, lemon pepper, vinegar, finishing with tart notes and bitterness.
Mouthfeel: Modest carbonation, juicy.
Overall: I really enjoyed this beer.