Drakes Jolly Rodger 2012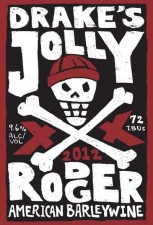 From Drake's –  Originally crafted as a holiday brew that Drake's brewers could get behind, Jolly had all the warming powers of malt and alcohol, minus the strange holiday beer ubiquitousness of overpowering pie spices, and finished with the open handed smack of bold Northwest American hops. The 2012 Jolly Rodger is full-bodied with rich caramel malt undertones and mild biscuit malt character. Sufficient additions of West Coast hops balance the malt with pine needle aromatics and satisfying bitterness.
Drake's Brewing – Drake's Jolly Rodger 2012 – 22 oz. bottle poured into a pint glass. 9.6% abv. 
Appearance:  Pours a semi-clear dark amber with a big fluffy head that subsides to a retaining thin cap of tan.
Aroma: Quite similar to the Imperial Red from 2010! Resinous piney hops, brown sugar and burnt sugar like malt sweetness. Very aromatic even from a far.
Taste:  Big bitter and citrusy hops, burnt toasty and caramel malts. A little dark chocolate, finishes with long sturdy dry bitterness that lingers well past the sip. Not boozy, but the over-the-top hop profile would lead you to believe this beer is young/hot.
Mouthfeel: Full bodied, lively carbonation.
Overall: Delicious, big and hoppy.  A very similar beer to not only Jolly Rodger 2010, but also to fresh Sierra Nevada Bigfoot.  I would drink this guy fresh however.