Dogfish Head Punkin Ale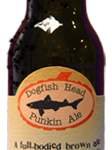 From Dogfish Head – A full-bodied brown ale with smooth hints of pumpkin and brown sugar. We brew our Punkin Ale with pumpkin meat, organic brown sugar and spices. This is the perfect beer to warm-up with, as the season cools.
Dogfish Head Craft Ales – Punkin Ale – 12 oz. bottle poured into a pint glass. 7% abv. Purchased at Whole Foods Markeet – Arroyo Pasadena, CA
Appearance: Pours a clear amber with a small gathering of white froth at the top.
Aroma: Pumpkin meat, nutmeg, cinnamon and something rather floral.

Taste: Nutmeg, bitter hops, cinnamon, pumpkin. Finishes with the beginning flavors described: nutmeg and hops.
Mouthfeel: Thin to medium bodied, far less thick than I remember last year.
Overall: Not my favorite offering from DFH and not my favorite pumpkin beer. I do appreciate that it isn't super sweet, I'd like some of the other pumpkin ales I've tried to be not so obnoxiously sweet. Thumbs in the middle for this one.