Dogfish Head Positive Contact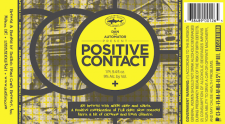 From Dogfish Head – Positive Contact is a cider-beer-hybrid veeeeeery loosely based on a Belgian-style Wit beer brewed with a bunch of unconventional ingredients for the style. Typically, Wits are brewed using bitter orange peel and coriander, but we went a different route. Inspired by one of Sams trips to Eataly in New York City, Sam and Ben brewed this beer with organic Fuji apple cider, fresh organic cilantro, and dried cayenne pepper. The cider was pressed in house from 200 lbs of apples with our very own fruit press. These wonderful fresh ingredients were delivered to usa couple of days before the brew by Sams friend Zeke of Washingtons Green Grocer. The grain bill for this brew was about 50/50 wheat and barley but a small portion of Anson Mills Slow-Roasted Farro was also added. To make this awesome product,the folks at Anson Millsuse a unique ancient heirloom variety of grain which imparts a delicate aromatic quality (Farrois traditionally used in soups and similar dishes). On top of that, a new hop variety was used, named Calypso, which lends notes of pear and apple that perfectly compliment the other ingredients in the brew. It was then fermented with a Belgian Wit yeast strain, adding both fruity and spicy complexity. This beer was made with a number if ingredients more traditionally used in the culinary world and we designed it to be a dazzling nimble food-pairing brew. Positive Contact: Between beer and cider. Between food and drink. Between us and you.
Dogfish Head – Dogfish Head Positive Contact – 750 ml. bottle poured into a goblet. 9% abv.
Appearance:  Pours a hazy yellow gold with a thick layer of white film.
Aroma: Fresh herbs. Cilantr, sage, mint. Banana.
Taste: Spicy yeast vanilla , dry cider. Banana. Has a slight tanginess in the aftertaste.
Mouthfeel:  Creamy. Modest carbonation. Full bodied.
Overall:  One of the most cohesive of the last half dozen "untraditional" beers Dogfish Head has made. This tasted like a nice spicy Imperial Witt or Weizenbock to me.  Didn't come across as cider like, although I could pick it out in the mix.  I would suggest drinking this fresh so that you can enjoy the spice profile.