Dogfish Head Burton Baton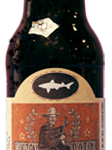 From Dogfish Head – A blend of oak-aged English strong ale and our 90 Minute I.P.A.. Citrus notes from Northwestern hops meld with vanilla notes from the oak.
Dogfish Head Crate Ales – Burton Baton – Purchased from Dawson's Liquors in Severna park, MD. Poured from a 12 oz bottle into a pint glass. 10% ABV. 70 IBUs.
Appearance: Deep rust to light garnet with an amazingly thick and sturdy head. Not so much lace as 200-thread count sheets with a couple of holes in them.
Aroma: Butterscotch, nougat, pralines, vanilla and a bit of citrus.
Taste: Starts out with sweet malt like most Imperial IPAs, but gives way to the English ale flavors and finishes with a hint of the Northwestern hops. Not as much pine and resin as some Imperial/Double IPAs, but the noble hop flavors make up for it.
Mouthfeel: Syrupy, almost chewy. You'll want to roll this around over your tongue with every sip.
Overall: Just a fantastic beer. A sipper, for sure, but this has something for lovers of both domestic and import IPAs, just cranked up and put over the top.