Dock Street Barrel Aged Barley Wine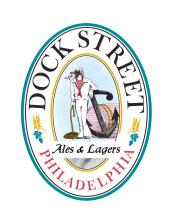 From Dock Street – Dock Street BarleyWine Style Ale is brewed with the best of both American and English traditions in mind. This very special batch of our immense ale has been tempered by 10 months of quiet aging in oak barrels that had previously been the home of Chadds Ford Pinot Noir wine.
Dock Street Brewing – Dock Street Barrel Aged Barley Wine – 750 ml bottle poured into a goblet. 10.5% abv.
Appearance: Dark, muddy brown with some floaties. The head was modest sized  and frothy.
Aroma: Dried dark fruit and dried tropical fruit.

Taste: Oak, ripe plum, pear, apple and peach. Lots of booze.
Mouthfeel: Thick with low carbonation.
Overall: A really tasty, mature barleywine.