Cigar City Hunahpu's Imperial Stout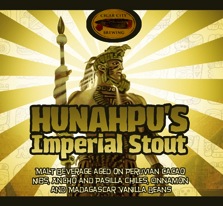 From Cigar City Brewing – In Mayan myth, Hunahpu gave cocoa to the Mayans. The base recipe is Marshal Zhukov Imperial Stout. It is aged on pasilla and ancho peppers as well as vanilla, cinnamon and cocoa nibs.
Cigar City Hunahpu's Imperial Stout – 750 ml bottle poured into a goblet. 11% abv.
Appearance: Pours a viscous dark brown with a tan cap of head.
Aroma: Dark chocolate, vanilla, smokey malt and dark fruit.

Taste: Dark cherries, dark chocolate, smoked malt, vanilla and a little bit of cinnamon.
Mouthfeel: Goopy goodness.
Overall: Amazing and complex. I absolutely love this beer.