Cigar City Dos Costas Oeste – Grapefruit Wood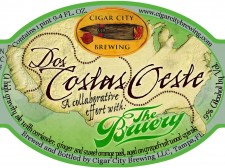 From Cigar City – Dos Costas Oeste is the result of a collaborative brewing effort between Cigar City Brewing of Florida's Gulf (West) Coast and The Bruery of Placentia, CA.Like the breweries involved with its creation, this ale cheerfully meanders off the beaten path.  Join us in celebrating this West Coast to West Coast collaboration. 
Cigar City Brewing – Cigar City Brewing and The Bruery – Dos Costas Oeste – Grapefruit Wood – 750 ml. bottle poured into a goblet. 9% abv.
Appearance:  Pours amber gold with a thin cap of white film.
Aroma: Spicy yeast. Citrus essence. Very floral.
Taste:  Clove, corriander, lemon zest, candi sugar. Very earthy. Sassafras, fresh wood.
Mouthfeel: Full bodied on the verge of syrupy. Lively bubbles.
Overall:  This round of Dos Costas seemed thicker, and had that same pleasant fruity floral profile. The wood treatment was pretty delicate as well. Tasty.