Cigar City Coronado The Last Spike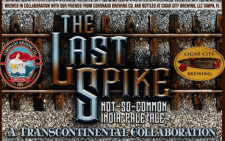 From Cigar City Brewing –  The Last Spike Not-­So-­Common IPAis hitting the shores of Southern California as a new collaboration between San Diego fave Coronado Brewing and well-­‐respected Cigar City Brewingout of Tampa, FL. The result is a California Common with amped up hops making its IPA qualities shine through. The beer debuted in Florida late August and will be hitting shelves at select beer retailers in Southern California in September. The beer represents a unique fusion of styles and balance; As a California Common, The Last Spike has more maltiness than hoppiness, yet the finish has a pronounced American-­‐style hop aroma. When formulating the recipe, head brewer Ryan Brooks "San Diego-­‐ized" the beer with big malts and dry-­‐hopped it for an earthy, fresh aroma in the glass.
Cigar City Brewing – Cigar City / Coronado The Last Spike – 750 ml. bottle poured into a goblet. 7.5% abv.
Appearance:  Pours copper with a quickly subsided white head.
Aroma:  Fruity hops,far more sweet citrus than pine, sweet and toasted malt.
Taste:  Mild American C hops. Fruity and dank, but not too bitter. Toasty caramel malts. Finishes with medium bitterness.
Mouthfeel:  Full bodied, average carbonation.
Overall:  I liked this far more than I anticipated I would. I've never been a real fan of Common/Steam Beer.  Just goes to show you enough hops can make anything tasty.