Cascade Tangerine Dream NW
From Cascade Brewing – This easy drinking NW style sour ale was aged in rum barrels for 20 months with tangerine zest, then blended with our Apricot Ale. Sweet aromas of tangerine and rum are the first thing you notice as you draw your glass near. A quenching sweet citrus, then rum spice take turns dancing on your palate. Rich rum spice and warmth lead to a lingering sweet tangerine finish like warn sand. Most rum beers only go to 10, ours goes to 11!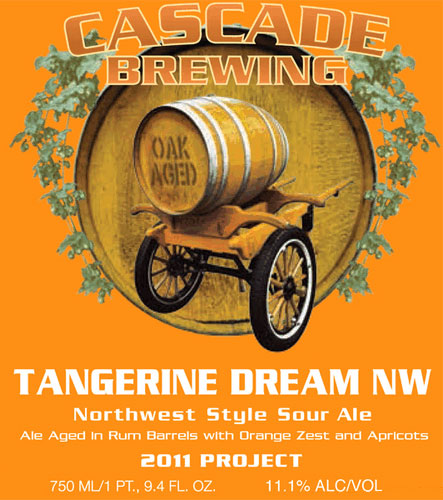 Cascade Brewing – Cascade Tangerine Dream NW – 750 ml. bottle poured into a goblet. 11% abv.

Appearance: Pours a bright yellow orange w a tight white cap.
Aroma:  Tangerine, sweet tart, funk.
Taste: Sweet tarts,cactus cooler, slight bitterness, some oak tannins, and spicy funky finish.
Mouthfeel: Full bodied, a touch chalky, modest carbonation.
Overall: I'm amazed that this is 11%, seemed more sour and funky than something 11% aged in Rum barrels. Very tasty, very drinkable, want more!!