The Bruery Batch 1000 Bryeian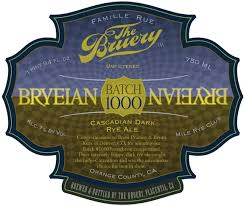 From The Bruery – Congratulations to Brian Pramov & Bryan Keas of Denver, CO, for winning our Batch #1000 homebrew competition! Their intensely hoppy, dark rye ale caught the judges' attention and was the unanimous choice for best in show.
The Bruery – The Bruery Batch 1000 Bryeian – On tap at The Bruery Tasting Room – 7% abv.
Appearance:  Pours black with a frothy tan ring.
Aroma:  Super bright american hops, roasted dark malt.
Taste: Bitter and citrusy hops, bitter chocolate,  roast. Hops linger.
Mouthfeel: Full bodied, silky smooth, modest carbonation.
Overall: I loved this beer. A bold dark hoppy ale that reminds me of one of my favorites, Stone 15th Anniversary Escondidian Imperial Black IPA. My advice is to drink this beer fresh if you love hoppy beers.