Brooklyn Post Road Pumpkin Ale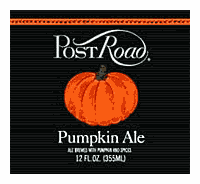 From Brooklyn Brewery – Post Road Pumpkin Ale is a revival of a beer brewed by the early American colonists. Pumpkins were plentiful, flavorful and nutritious and they blended nicely with barley malt. Hundreds of pumpkins are blended into each batch of Post Road Pumpkin Ale, creating a beer with an orange amber color, warm pumpkin aroma, biscuity malt center and crisp finish. Post Road Pumpkin Ale is spiced with cinnamon and nutmeg.
Brooklyn Brewery – Brooklyn Post Road Pumpkin Ale – 12 oz. bottle poured into a goblet. 5% abv.
Appearance: Pours a vibrant amber orange with a thin film of white. The body lets through light.
Aroma: Pumpin meat, rose and vanilla.
Taste: Pumpkin meat, nutmeg, spicy hops toasty malt. Finishes very dry by Pumpkin Ale standards.
Mouthfeel:  Medium bodied spicy carbonation.
Overall:  A very balanced, dry, spicy Pumpkin Ale. Unlike some Pumpkin ales, you could session this one.