BrewDog Sink the Bismarck Review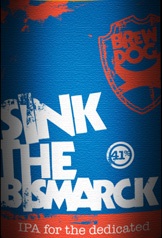 From BrewDog – This is IPA amplified, the most evocative style of the craft beer resistance with the volume cranked off the scale. Kettle hopped, dry hopped then freeze hopped for a deep fruit, resinous and spicy aroma. A full out attack on your taste-buds ensues as the incredibly smooth liquid delivers  a crescendo of malt, sweet honey, hop oils and a torpedo of hop bitterness which lasts and lasts.
BrewDog – BrewDog Sink The Bismarck – 12 oz. bottle poured into a taster glass – 41% abv.
Appearance: Pours a cloudy orange amber with no head.
Aroma: Grapefruit, rubbing alcohol, vinegar, and concentrated peach.

Taste: Caramel like booze, concentrated peach, grapefruit, wood, astringent hops, and alcohol for days.
Mouthfeel: Hot and syrupy.
Overall: Insanity in a bottle.  Very boozy, insanely hoppy, although my tongue felt violated, it was a fun beer to sit around and discuss.