Boulevard Double-Wide IPA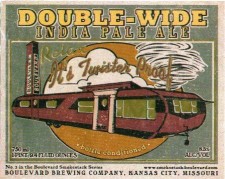 From Boulevard – The classic India Pale Ale is a traveler's beer, aggressively hopped to withstand the long, hot ocean voyage to the British East Indies. Our Double-Wide I.P.A. also travels well, and is right at home in the most exotic ports of call of the Midwest.
Boulevard Brewing – Boulevard Double-Wide IPA – 750 ml bottle poured into a goblet. 8.5% abv. From Online Trade
Appearance: Pours a dark amber with a fluffy head that subsides fairly quickly to a white film. Leaves behind spotty lacing.
Aroma: Strong pine, caramel malts, orange zest, men's cologne.
Taste: Bitter piney resinous hops, caramel malt, grapefruit.
Mouthfeel: Full bodied with subtle carbonation, that I feel suits this beer perfectly.
Overall: An above average, well made double IPA.