Boulevard Collaboration No. 1 Imperial Pilsner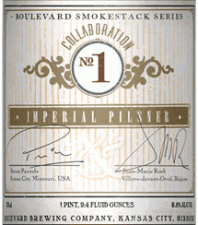 From Boulevard – With this Imperial Pilsner, Jean-Marie Rock (Orval) and Steven Pauwels (Boulevard) have revived a beer brewed by Rock at the beginning of his career. For more than 30 years only a cherished memory, it lives again in this collaboration. A starkly simple recipe combined with an exquisitely complex brewing process produce a beer of subtle elegance, a study in delicately balanced contrasts
Boulevard Brewing – Boulevard Collaboration No. 1 Imperial Pilsner – 750 ml bottle poured into a goblet. 8% abv.

Appearance: Pours a bright pastel yellow gold with a frothy cap of white foam.
Aroma: Dry malt, light lemon and sweetness.
Taste: Sweetness, light bread notes and bitter Euro hops.
Mouthfeel: Creamy with moderate carbonation.
Overall: Really satisfying and balanced.