Bell's Third Coast Ale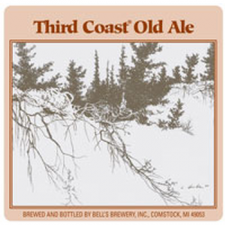 From Bell's – A barley wine with deep amber color, the brandy of ales. This beer has vintage character and will mature in the bottle at cellar temperature for years.
Bell's Brewery – Bell's Third Coast Ale – 12 oz. bottle poured into a goblet. Batch 10672 – 10.2% abv.
Appearance:  Pours a dark amber with a thin white film.
Aroma: Brown sugar, strawberries, herbal hops.
Taste:  Dark sugar, bitter hops, alcohol and toast.
Mouthfeel: Full bodied, creamy with modest carbonation.
Overall: A pretty solid, tasty strong ale. This was a pretty fresh bottle, and I honest have no idea what time will do with this beer. I stashed a few away, so I'm hoping for the best. It just seems so balanced now, I don't see what time would buy it.  I've read reviews that indicate some older batches started off hotter, so I can see wanting to mellow that a bit.