Bell's Batch 9,000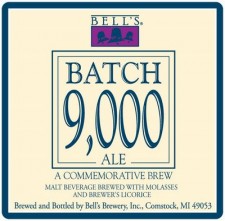 From Bell's Brewery – A Commemorative Brew Malt Beverage Brewed with Molasses and Brewer's Licorice. Black, dense, and rich, this is a great ale for the cellar.
Bell's Brewery – Bell's Batch 9000 – 12 oz. bottle poured into a goblet. 12.5% abv. From Peter in Ohio!
Appearance: Pours a cola brown with a thin film of froth. Looks very viscous.
Aroma: Licorice, leather, wood, soy sauce.

Taste: Molasses, burnt roast ,booze and teriyaki sauce.
Mouthfeel: Goopy and thick.
Overall: This needs time to settle. It was too much for me to enjoy an entire bottle, but at the same time, I'm glad I got to try it.