Bell's 25th Anniversary Ale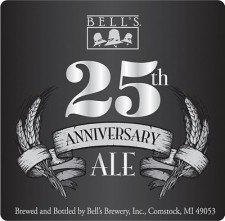 From Bell's – Celebrating 25 years of brewing, this strong amber ale carries on our tradition of flavorful, balanced beers. Brewed with 100% Michigan-grown barley, 25th Anniversary Ale starts with caramel & light toffee flavors. These are paired with generous kettle & dry-hop additions, yielding a crisp, assertive bitterness and hop flavors ranging from citrus, floral, and piney notes.
Bell's Brewery – Bell's 25th Anniversary Ale – 12 oz. bottle poured into a goblet. 8.5% abv. From Online Trade
Appearance: Pours a bright brass with a thin beige film.
Aroma: Medicine, supplements, the paper stuffed in sneakers, and peach.
Taste: Bitter piny hops, peach, pear and toffee. Finishes earthy and bitter.
Mouthfeel: Thin and sticky.
Overall: It's a memorable beer, but not in a good way.  It smelled horrible, and didn't taste much better. Let's hope they make up for this in their next landmark beer, which I know they are capable of.