Bear Republic Pete Brown Tribute Ale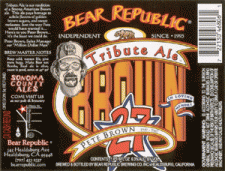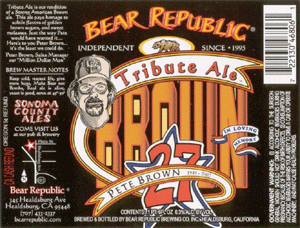 From Bear Republic – Pete Brown Tribute Ale is our rendition of a Strong American Brown Ale. This ale pays homage to subtle flavors of golden brown sugars, and sweet molasses. (Pete Brown, 1949-2002. Cheers, ol' pal.)
Bear Republic – Bear Republic Pete Brown Tribute Ale – 22 oz. bottle poured into a pint glass. 6.5% abv. Thanks Big Mike!
Appearance: Pours an amber brown with a thin creamy tan head.
Aroma: Chocolate like malt, oats, solid level of hops.
Taste: Burnt toast, dark chocolate, bitter herbal hops.
Mouthfeel: Full bodied, creamy carbonation.
Overall:  Terrific.I like Brown ales like this, with a nice chocolatey backbone.