Avery The Kaiser Imperial Oktoberfest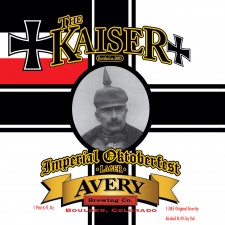 From Avery – The Kaiser sonce said, "Give me a woman who loves beer and I will conquer the world." If the Kaiser and his significant other had tipped this bottle, we'd all be "sprechenden Deutsch!" We took all that is good in a traditional Oktoberfest – gorgeous, deep copper sheen, massive malty backbone and spicy, floral, pungent noble hops – then intensified each into this, an Imperial Oktoberfest.
Avery Brewing – Avery The Kaiser Imperial Oktoberfest – 22 oz. bottle poured into a pint glass. 9.3% abv. Purchased at Certified Market Monrovia, CA
Appearance: Pours a dark bronze with almost no head.
Aroma: Herbal Euro hops, toast and caramel.
Taste: Bitter Eurohops, caramel, alcohol and apricot.
Mouthfeel: Full bodied, low carbonation, a bit sticky.
Overall: I really enjoyed this, it wasn't something I could quickly drink do to it's warmth and body, but I enjoyed every sip. I didn't like this beer years ago when I tried it for the first time. The lesson is to develop your palate, and circle back on the beers you were close to writing off.