Avery Quinquepartite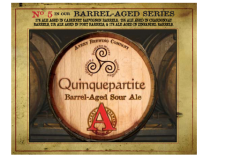 From Avery – Noticing that our private cellar bottle stock of sour ale was fast dwindling, we decided to blend a very small batch from five of our finest barrels to produce this, No. 5 in our Barrel-Aged Series. Brewery release only. 60 cases shared. 27 hoarded. This beer consists of: 37% Ale aged in Cabernet Savignon barrels, 25% Ale aged in Chardonnay barrels, 21% Ale aged in Port barrels and 17% Ale aged in Zinfandel barrels. It measures at 9.91% ABV and will be sold in single 12 oz. single bottles. "Quinquepartite" translates to "divided into or composed of five parts." It is slightly less saucy than the name, "Dupuceleuse," chosen for #4 in the set.
Avery Brewing – Avery Quinquepartite – No. 5 in Barrel-aged Series – 12 oz. bottle poured into a goblet.
Appearance: Pours a deep orange with a small white ring and a thin white film looking from the top down.
Aroma: Dry white wine, light cork/oak and sour peach or nectarine.
Taste: Tannins, wood barrel, sour dry grapes, sweet grapes (grape juice). Very balanced between sweet and dry and sour.
Mouthfeel: Fizzy and a tad puckering.
Overall: Really impressive, perhaps my favorite thus far in the barrel-aged series.