Allagash Mattina Rossa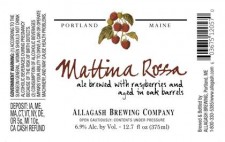 From Allagash – Brewed with over 1000 lbs of fresh local raspberries and aged in French Oak barrels for over 18 months, utilizing a unique blend of wild yeasts and lactic-acid bacteria.
Allagash Brewing – Allagash Mattina Rossa – Multiple samples On tap at GABF  – 6.9% abv.
Appearance:  Pours a dull cloudy gold with no head.
Aroma: Fresh lemon citrus zest. Wine barrel,funk and wet wood.
Taste: Sharp citric acid. Metallic brett. Vinegar. Wood tannons. Finishes tart.
Mouthfeel: Puckering. Medium body with modest carbonation..
Overall: Sour, tart, funky, woody, awesome.