AleSmith Decadence 2011 Maple Smoked Barley Wine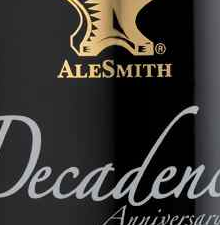 From AleSmith – Alesmith Decadence 2011 is a Maple Smoked Barley wine. Blending elements of two beer styles, smoke beer and barley-wine. Alesmith has created a unique, homebrew-inspired beer. Big and malty, with a huge Bamberg smoked-malt character, Alesmith Decadence 2011 has another very special ingredient: Vermont maple syrup. The smoky malt flavor is perfectly balanced by modest bittering hop additions. A rich, full-bodied beer designed to deliver a memorable drinking experience. Join our anniversary celebration with Alesmith Decadence. You'll soon discover why Alesmith is known around the world as the place to find legendary craftsmanship.
AleSmith Brewing – AleSmith Decadence 2011 Maple Smoked Barleywine – 750 ml. bottle poured into a goblet. Purchased at Certified Market, Monrovia, CA.
Appearance: Pours magogany with some with a thin tan ring atop. Within the dense damp body are tan yeast floaties. I did get the bottom 1/3.
Aroma: Alcohol,wood,campfire  Brown sugar.
Taste: Dark booze, burnt toast, wood, bitter hops, finishes bittersweet.
Mouthfeel:  Full bodied. Modest carbonation.
Overall:  This beer has a lot of promise. I can base that on the fact that I enjoy everything AleSmith pumps out. With that being said, this beer was hot, so hot that it over powered the beer for me.  I will revisit it in a year, where it should be hitting perfectly.