AleSmith Decadence 2006 Imperial Evil Dead Red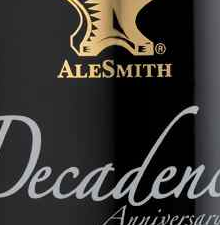 From AleSmith Brewing – The second release in the Decadence series, Dead by Dawn, was inspired by our own seasonal specialty ale, Evil Dead Red. What if we made it bigger, bolder and even more evil? The result is Decadence 2006 Dead by Dawn, a devilicious auburn-colored ale with a complex sweet caramel maltiness balanced by the just the right amount of hop bitterness.
AleSmith Brewing – AleSmith Decadence 2006 Imperial Evil Dead Red /Dead By Dawn – Enjoyed in December 2010. 9.9% abv. Purchased at Santa Anita Wines and Spirits Arcadia, CA.
Appearance: Pours a dark, cloudy amber with a retaining creamy tan cap.
Aroma: Dried tropical fruit, powdered sugar, port wine.
Taste: Big sticky caramel malt, tropical fruit, port wine with faded herbal hops.
Mouthfeel: Lightly carbonated, sticky.
Overall: There is hope for this beer, as it hasn't shown negative oxidation qualities, and is very enjoyable.