AleSmith Barrel Aged Decadence 2008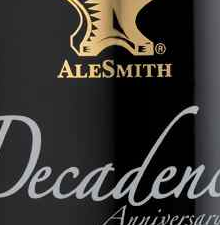 From AleSmith – This has proved to be a very interesting edition of Barrel Aged Decadence. The 2008 batch, an English-style barleywine aged in bourbon barrels, took on a pleasant sourness. Such quirks of nature can provide intriguing drinking experiences, like the many excellent wild ales being produced today. We think you'll enjoy this delightfully unconventional offering.
AleSmith Brewing – AleSmith Barrel Aged Decadence 2008 – 750 ml. bottle poured into a goblet. 11% abv.
Appearance:  Pours a iced tea brown with tan swirls.
Aroma: Brown sugar, bourbon, fruitloops.
Taste: Cherry, brown sugar, barrel. Bourbon.
Mouthfeel:  Full bodied slightly sticky.
Overall:  I wasn't expecting much from this beer, but still saved it for a special occasion to break it out. That happened to be the Woodshop tasting a few weeks back.  This wasn't sour in the least bit for me, very fruity and rich, but not sour like the last few bottles I tried of regular 2008 Decadence.