Reviewed: AleSmith San Diego Pale Ale .394
Editor's note:  AleSmith Brewing has reached out to The Full Pint regarding the bad can we purchased. They would like us to give the beer another try as the experience wasn't a proper representation of the beer. Please stay tuned for an updated review.
Product description: In early 2014, Tony Gwynn's team approached AleSmith to create a distinctive beer for the baseball legend. A meeting was called at the Gwynn household, which included a sampling of AleSmith beers to identify Tony's preferences. He wanted the beer to be "light with a kick" which he elaborated further to mean full of hop character and light in body and color. The result of the Gwynn family's feedback on test batches rendered a golden pale ale full of American hop flavor and aroma, with a subdued bitterness and a malty sweet finish. AleSmith San Diego Pale Ale .394 pays tribute to the city that Tony loved and the career high batting average that he achieved in '94. Discover what happens when a Hall of Fame perfectionist crafts a beer with a world-class brewery. A portion of the proceeds will go to the Tony and Alicia Gwynn Foundation (TAG).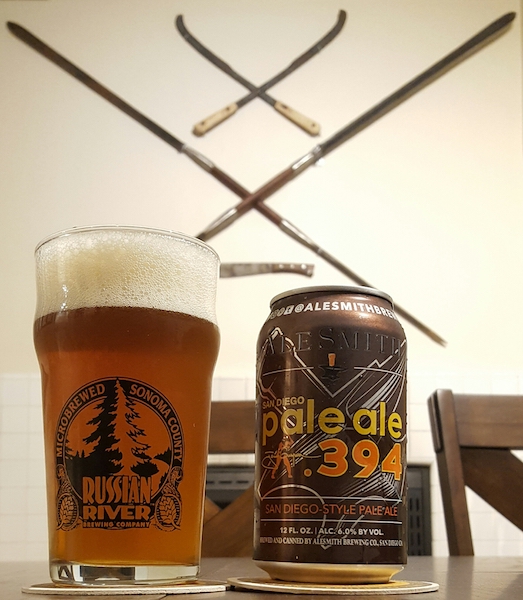 AleSmith Brewing – AleSmith San Diego Pale Ale .394 – 12 oz. can poured into an imperial pint glass. 6.0% abv.
Also from my recent Trader Joe's haul is my first go at AleSmith's .394 pale ale in 12oz cans. AleSmith, in my opinion, is way late to the canned hoppy beer trend. But late is better than never. This batch was canned on 3/30/17, so about two weeks old, but unfortunately no beers at Trader Joe's are refrigerated. (Thank you, AleSmith, for marking the canned-on date.) I took the gamble on this one especially since the last IPA I went for, Mike Hess Solis Occasus, was a week older and still tasted solid.
Cracking this one open, the color is translucent, deeper orange in the glass and generates a large top of rocky, white foam. The nose has a lot of celery seed, which is odd, and it really comes through smelling the empty can for some reason. Also in the aroma is quite a bit of thick honey roll moving to something slick and buttery hinting at diacetyl, a margarine-like off character. It's not the aroma I'm used to with tap pours of this beer. The flavor, unfortunately, doesn't turn things around either. It's dusty and cardboardy with more of that celery seed grittiness and a prickly, mineral water tinge. Carbonation peters out after a few minutes in the glass while the palate remains too dry and chalky. I'm not sure what to say other than this is not what I have experienced in the past with tap pours of this beer.
If anything, this goes to show that distribution really kills IPAs and their American pale ale brethren. Even a decades-old hoppy beer master like AleSmith is going to learn the hard way that the store shelf life of IPAs is essentially zero. Even if refrigerated and consumed within a week or less, point to point storage conditions of beer outside of the brewery's control can be extremely damaging to the product, especially when the product is as fragile as an IPA. I think we can all agree that a two-week old American pale ale from AleSmith should not taste like this.