Worthy Brewing Releases Local 36 Red Lager
(Bend, Oregon)- In celebration of the 100-year anniversary of Local 36, a heat and frost insulators union in Portland, Oregon, Worthy Brewing Company's newest release is Local 36 Red Lager.
Worthy's founder, Roger Worthington, built a career out of representing the union's asbestos workers, including his own father. "For over 24 years, it has and will continue to be my honor to represent some of the finest people in the world, without whom Worthy Brewing would not be," says Roger. "Local 36 Red Lager is my way of saying thank you for their sacrifices and dedication."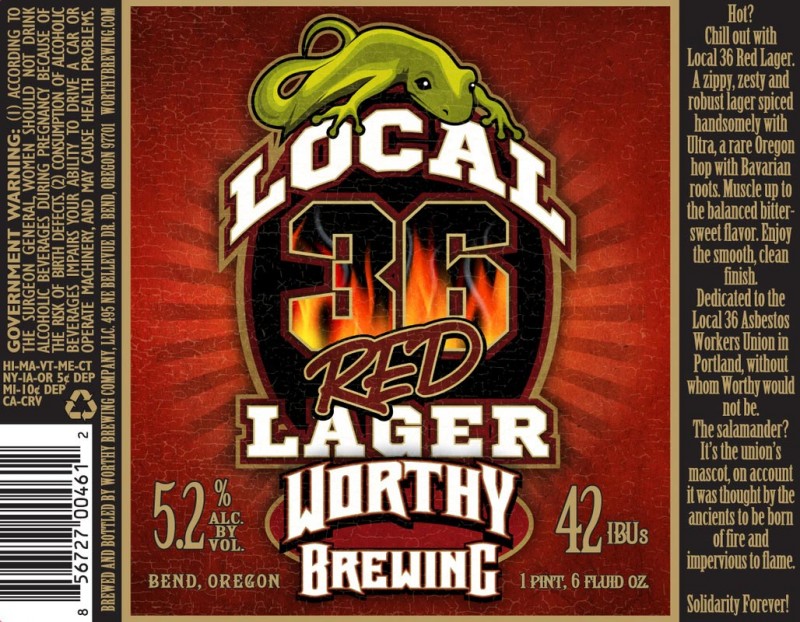 Local 36 Red Lager comes in at 5.2% ABV with 42 IBUs, delivering a smooth, clean, and happily
hopped finish. The robust red lager was brewed with a mix of domestic and imported malts and spiced with Ultra,
a rare Oregon-grown aroma hop with Noble Bavarian roots. The very limited release of 22-ounce bottles and kegs will be distributed by Columbia Distribution in Oregon and Washington, Hodgen Distributing in Eastern Oregon, and by Hayden Beverage in Idaho.
Worthy Brewing Company delivers remarkably balanced, filtered ales that are hand-crafted using all natural, premium ingredients and the great water from the Cascade Mountains in Bend, Oregon. Its flagship beers include 12-ounce cans of: Worthy IPA, Worthy Pale Ale, Easy Day Kolsch, and Lights Out Stout. The bottling line also cranks out 22-ounce bottles of Worthy IPA, Worthy Imperial IPA and Eruption Imperial Red Ale, along with limited releases of specialty and seasonal beers.
Worthy Brewing Company opened its doors in Bend, Oregon in early 2013. Within its first year, a canning line, bottling line, expanded fermentation space, a kitchen expansion, and an addition of a five barrel pilot brew system were completed. Worthy also boasts a greenhouse and hop yard onsite for growing estate and experimental hops in conjunction with Oregon State University and Indie Hops.