Worthy Brewing Brings Back Farm Out Saison
(Bend, Oregon)  – To celebrate warmer days and by popular demand, Worthy Brewing is bringing back Farm Out Saison as its Summer Seasonal Release.
Farm Out Saison comes in at 7.3% ABV with 22 IBUs and a light and refreshing finish.
True to style, Brewmaster Chad Kennedy used Belgian pilsner malt, Saaz-inspired Sterling hops, and a fruity French-Belgian yeast strain that coalesce to form a delicious apricot-colored, unfiltered ale.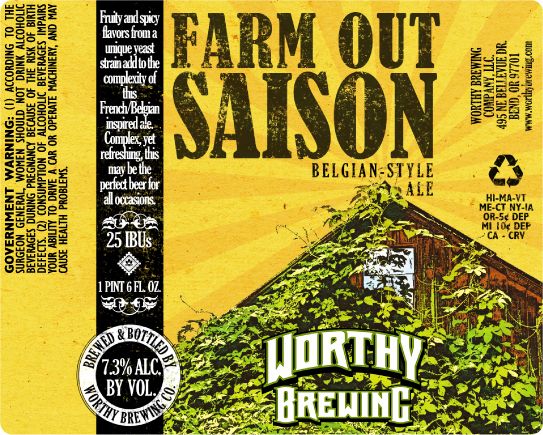 The aroma ranges from freshly cut pineapple to lemon citrus, with deep fruity esters and hints of white pepper. Fruity and spicy flavors from the unique yeast strain add to the complexity of this French/Belgian inspired ale. Complex, yet refreshing, Farm Out Saison may be the perfect beer for all occasions.
The June to September release of 22 ounce bottles and kegs will be distributed by Columbia Distribution in Oregon and Washington, Hodgen Distributing in Eastern Oregon and by Hayden Beverage in Idaho.
Worthy Brewing Company delivers remarkably balanced, filtered ales that are hand-crafted using all natural, premium ingredients and the great water from the Cascade Mountains in Bend, Oregon. Its flagship beers include 12 oz cans of: Worthy IPA, Worthy Pale Ale, Easy Day Kolsch, and Lights Out Stout. The bottling line also cranks out 22 ounce bottles of Worthy IPA, Worthy Imperial IPA and Eruption Imperial Red Ale, along with limited releases of seasonal beers, such as Farm Out Saison.
Worthy Brewing Company opened its doors in Bend, Oregon in early 2013. Within its first year, a canning line, bottling line, expanded fermentation space, a kitchen expansion and an addition of a five barrel pilot brew system were completed. Worthy also boasts a greenhouse and hop yard onsite for growing estate and experimental hops in conjunction with Oregon State University and Indie Hops. For more information, please contact CEO, Chris Hodge, at [email protected]