Widmer – Brother's Day – Brews, Bros and Beer-nevolence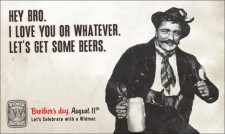 BROTHER'S DAY: BREWS, BROS AND BEER-NEVOLENCE
Widmer Brothers Brewing Raises Funds for Big Brothers Big Sisters in Celebration of Annual Holiday scheduled for August 11, 2009.

Portland, OR – Thankfully most guys do not need a reason to savor a cold beer, but here's a great one in case you do need it – a celebration of Brotherhood.  Brother's Day is Tuesday, August 11 and bros nationwide can get ready to celebrate their special day by hoisting a beer, clicking a mouse and occasionally punching each other in the arm – all in the name of doing good.

To honor Brother's Day, Widmer Brothers Brewing has pledged to raise $10,000 for Big Brothers Big Sisters by August 11 and is making it easy for those who love their bros to help, with a collection of e-cards at www.widmer.com/brothers. More snarky than sentimental, for each e-card sent $1 will be donated to Big Brothers Big Sisters in support of the organization's effort to recruit more volunteer Big Brothers.
Facebook junkies can help Widmer reach its $10,000 goal, too – the brewery will donate $1 for each person who "fans" its official page at www.facebook.com/WidmerBrothersBrewing this summer.
"Our effort to support Big Brothers Big Sisters is a personal commitment," Kurt Widmer explains. "We know firsthand the value of strong role models and of course, the importance of brotherhood."
"I just hope Kurt remembers to buy me a Brother's Day present this year," added his brother Rob.
Widmer encourages those interested in getting involved with Big Brothers Big Sisters to visit the Brother's Day website to find out how, and to sign up for Widmer Brothers Brewing-sponsored recruitment events in select cities.
Brother's Day was made official last year when August 11 was proclaimed a holiday in the State of Oregon and the City of Portland. Kurt and Rob Widmer recognize Brother's Day as a day to celebrate the success and contributions of brothers everywhere.
About Big Brothers Big Sisters
Big Brothers Big Sisters helps children reach their potential through one-to-one relationships that have a measurable impact. Volunteers spend just a few hours a week with a child, watching movies, playing in the park, or just hanging out.  Big Brothers Big Sisters Columbia Northwest serves children in Multnomah, Clackamas, and Washington counties in Oregon, along with Clark, Cowlitz, Skamania, and Wahkiakum counties in Southwest Washington. Big Brothers Big Sisters of Puget Sound is the largest mentoring organization in Washington State, serving 2,500 children in King, Pierce, Kitsap, Jefferson and Clallam counties.
About Widmer Brothers Brewing
What started as a dream for two ordinary brothers who just loved beer has now become a reality for two ordinary brothers who still just love beer. Kurt and Rob Widmer helped lead the Pacific Northwest craft beer movement in 1984 when, in their twenties, they dreamed of brewing American interpretations of authentic European style beers. In 1986, Widmer Brothers Brewing introduced the first American-style Hefeweizen; today, the unfiltered cloudy beer is the company's signature brew and one of the best selling wheat beers in the country. Based in Portland, Ore., the brewery currently produces a variety of European- and American-style beers including Drop Top Amber Ale and Broken Halo IPA. For more information about Widmer Brothers Brewing, visit www.widmer.com.