WeldWerks Brewing Joins Ska Distributing Portfolio
(DURANGO, CO) – Ska Distributing is excited to expand its portfolio of beers available across Southwest Colorado with the addition of WeldWerks Brewing Co. The infamous Juicy Bits Hazy IPA as well as WeldWerks' rotating offerings will hit shelves this week.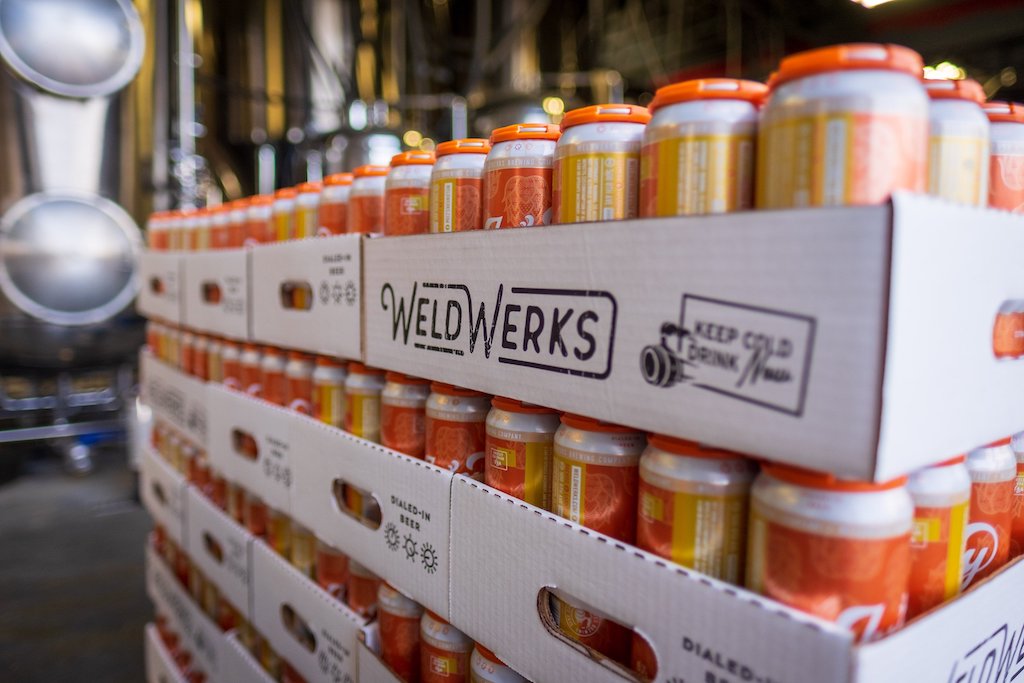 Ska Brewing and WeldWerks have long been industry friends and fellow judges at the Great American Beer Festival, where they discovered their shared commitment to beer quality and consistency. "Partnering with Ska for distribution to Southwest Colorado was a natural fit for us at WeldWerks," says Alex Paine, Director of Sales. "They know that market better than anyone. Their attention to quality and relationships align perfectly with our focus on expanding our Colorado footprint."
Years into their friendship when Ska was researching and developing The Hazy IPA, they looked to WeldWerks Juicy Bits as one of the best industry examples of the style. This cult-followed hazy was one of the first beers in this style category in Colorado, and it was  chosen in the 2019 Best Beers in America survey conducted by Zymurgy Magazine; among many other recognitions.
"The mission of our distribution company is to bring otherwise unavailable beers to our rural community," says Ska Brewing Co-Founder and CEO Dave Thibodeau. "We like to bring them the best of the best."
WeldWerks Juicy Bits IPA and other rotating beers from the Greeley-based brewery will be available through Ska Distributing beginning this week. Those interested in carrying WeldWerks can contact [email protected].
For more information about Ska Distributing, contact Emily Hutto at [email protected].
ABOUT SKA DISTRIBUTING
Ska  Distributing Company is the premiere craft distributor for Southwestern Colorado, committed to serving independently owned companies. In addition to Ska Brewing's award-winning beers, The Hard Seltzer, and non-alcoholic Skagua, they distribute other beers from Bristol Brewing, Bruz Beers, La Cumbre Brewing Co., Left Hand Brewing Co., Lone Tree Brewing Co., Stone Brewing, and Telluride Brewing. Ska services on and off-premise accounts in Durango, Telluride, Ridgway, and Ouray. Find Ska online at skabrewing.com.
ABOUT WELDWERKS BREWING CO.
Established in 2015, WeldWerks Brewing Co. is an award-winning craft brewery located in Greeley, Colorado recognized for brewing an array of beer styles including Juicy Bits, one of the most highly regarded IPAs in the country. Comprised of a passionate group of individuals dedicated to bringing innovative and quality craft beer to the community it serves, WeldWerks Brewing has garnered numerous medals and acclaim on the way, including being named the best new brewery in the country by USA Today in 2016 and multiple medals at both the Great American Beer Festival and World Beer Cup. The brewery's charitable arm, the WeldWerks Community Foundation, is a 501c3 nonprofit that supports local nonprofits through events like The WeldWerks Invitational. At WeldWerks, being "dialed-in" is a way of life, helping to ensure outstanding excellence in craft beer, service and beyond. For more information about WeldWerks Brewing Co, visit www.weldwerksbrewing.com.