Vote to Bring Back Your Favorite Retired Terrapin Beer in 2013!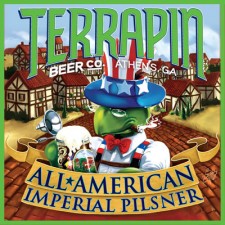 All-American Imperial Pilsner Returns in Time for Presidential Election Season… Vote to Bring Back Your Favorite Retired Terrapin Beer in 2013! In honor of this year's Presidential election, Terrapin Beer Co. has brewed up a batch of the long-gone, but not forgotten, All-American Imperial Pilsner. The brewery decided to bring the All-American out of retirement and in the spirit of democracy, Terrapin is giving fans the opportunity to bring back one of their favorite beers too!

Starting this month, folks will be able to "vote" for one of the 25 beers from Terrapin's past not currently being brewed. The beer with the most votes on Tuesday, November 6th at 7:00pm ET (when polls close in Georgia) will be brewed again in 2013! Eligible beers include past Side Projects, year round beers and seasonal offerings… sorry; collaborations or "two party" beers are not eligible. Votes can be placed on the brewery web site www.terrapinbeer.com/vote. The competition promises to be tough with campaign plans already in the works!

The All-American Imperial Pilsner is the beer that has inspired all this democratic fervor at Terrapin. The AAIP began its career as one of the original members of the Monster Beer Tour. Originally released  in 2005 as a 7.5% Pilsner with 75 IBUs, it was brewed with all American malts, hops, yeast, and water. Rich, malty, and with an extreme hoppy profile, this was truly a Terrapin-style Pilsner.  The plan to bring the Pilsner back for the Presidential Election was born when the AAIP was retired. It softened the blow to the beer's many fans to know that it was not gone forever… just on hiatus! It's back now once again; representing classic German style but with an All-American flair! This time the ABV is even bigger at 8.6% with 80 IBU's!

The latest version of the AAIP will hit the shelves in late July or early August. Voting for the next beer from the past to be brewed in 2013 is open now! Give your favorite beer a chance to shine again…    vote today!

About Terrapin:

Terrapin Beer Co. has a portfolio of three year-round beers, four seasonal beers, the Monster Beer Tour collection of four high-gravity selections, and the Side Project series of one-time releases. Terrapin has developed a reputation for high-quality beers that push the boundaries of creative brewing.  Tours of the Terrapin Brewery are offered every Wednesday, Thursday, Friday and Saturday night from 5:30 p.m. – 7:30 p.m. with live music and tastings. The brewery is located at 265 Newton Bridge Road in Athens, GA. The tours are an excellent opportunity to taste Terrapin's full line of award winning beers and see the brewing process first hand..