Victory Introduces Hop Ranch Imperial IPA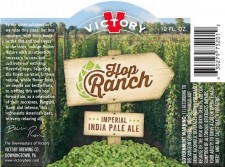 (DOWNINGTOWN, PA) – Victory Brewing Company ® (Victory) is pleased to announce a new seasonal offering, Hop Ranch Imperial India Pale Ale. The third new release for the brewery this year, Hop Ranch Imperial India Pale Ale will be available in four-packs and on draft from December 2013 to February 2014.
Fully juicy in its citrus character with the pleasantly sharp, biting edges of tart fruit and bitterness, Hop Ranch Imperial India Pale Ale traces its roots to Victory's Ranch series, a unique and comprehensive study of hops in which Brewmasters experimented with different hop varieties to showcase a range of flavor profiles and celebrate the nuances and distinctions in the resulting series' recipes.
From the Ranch series, Victory developed its recently released DirtWolfTM Double IPA, as well as the wildly popular 2013 Philadelphia Beer Week exclusive, Liberty Bell Ringer. Making use of the favored Mosaic hop and, at the time, the unnamed #483 hop, Liberty Bell Ringer was very well received. This prompted Victory's brewmasters to revisit and fine-tune that recipe, resulting in the seasonal Hop Ranch Imperial India Pale Ale. Click here to see the evolution of these brands.  Still using Mosaic and hop #483, now named Azacca, as well as German malts, this 9.0% ABV brew's name salutes the American hop ranchers who cultivate exciting, high quality new varieties while maintaining impeccable standards of tradition.
"We knew we had something special in our Liberty Bell Ringer, but we were restless to experiment further. We chose to work with the recipe a bit, adjusting subtle flavors before we arrived at what we think is the impressive, in-your-face character embodied in Hop Ranch Imperial India Pale Ale," said President and Brewmaster, Bill Covaleski. "We appreciate the hop ranchers who make it possible for us do what we love to do, and in turn, hope our fans appreciate this new seasonal brew."
About Victory Brewing Company
Victory Brewing Company is a privately held craft brewery headquartered in Downingtown, Pennsylvania. Founded by Bill Covaleski and Ron Barchet, childhood friends who met on a school bus in 1973, the brewery formally began operations in February of 1996. Victory, Pennsylvania's widely acclaimed brewery and restaurant, now serves fans of fully flavored beers in 30 states with innovative beers melding European ingredients and technology with American creativity. To learn more about Victory Brewing Company visit us on the web at www.victorybeer.com.