Victory Announces Release of White Monkey – Barrel Aged Golden Monkey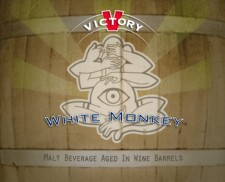 DOWNINGTOWN, PA – Victory Brewing Company brewmasters, Ron Barchet and Bill Covaleski, are extending the family of Victory beers to include White Monkey, a white wine barrel aged version of the brewery's popular Belgian-style tripel, Golden Monkey. This limited edition release, bottled in corked 750ml bottles, will be offered to the public starting March 2, 2013.
"Our Golden Monkey is beloved by many, so we anticipate some heartfelt responses to our intriguing transformation of this beer," expressed Victory brewmaster Bill Covaleski. "The wine barrel aging has had a substantial and delicious impact on the Golden Monkey."
Approximately 100 oak barrels that once held chardonnay varietal white wine from Wente Vineyards of Livermore, CA were filled with Golden Monkey and aged at ambient temperatures in the Downingtown brewery for 3 months. This process is an extension of an experiment dating back 6 years prior, when a single oak barrel once holding white wine from local vintner, Chaddsford Winery, was used in a similar manner to produce a test batch which never left the brewery. Deemed delicious by Victory brewmasters and brewing staff, the White Monkey project was made possible through a collaborative partnership with Wente Vineyards.
Extending a streak of barrel aged Victory beers, White Monkey follows the November 2012 release of red wine barrel aged Baltic Thunder, dubbed 'Red Thunder,' and the December 2012 release of bourbon barrel aged Old Horizontal Barleywine, then emerging as 'Oak Horizontal.' Prior to these critically acclaimed, limited release offerings, Victory had offered a delicious version of it's Storm King Stout aged in bourbon barrels which was named 'Dark Intrigue' in 2010 and 2011.
Bottling will yield approximately 2,800 cases, making this beer available in the Victory distribution territories of Pennsylvania, Ohio, New Jersey, Maryland, Delaware, northern Virginia, New York City, Massachusetts, South Carolina, Georgia, Texas, Colorado and Florida.
To celebrate this historic evolution of Victory's #2 selling brew, the Downingtown brewpub will be hosting "In Like A Monkey" festivities on Saturday, March 2, which will include a special beer breakfast featuring dishes paired to both Golden Monkey and White Monkey. Restaurant and retail operations will open at 9am for case and bottle purchases of White Monkey.
###
About Victory Brewing Company
Victory Brewing Company is a privately held microbrewery headquartered in Downingtown, Pennsylvania. Begun by Bill Covaleski and Ron Barchet, childhood friends who met on a school bus in 1973, the brewery formally began operations in February of 1996. Victory, Pennsylvania's widely acclaimed brewery and restaurant, now serves fans of fully flavored beers in 29 states with innovative beers melding European ingredients and technology with American creativity. To learn more about Victory Brewing Company visit us on the web at www.victorybeer.com.