Urban Assault Ride Sponsored by New Belgium Brewing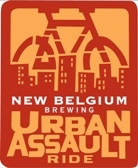 URBAN ASSAULT RIDE, SPONSORED BY NEW BELGIUM BREWING, EXPANDS TO 10 CITIES IN 2009
THE COUNTRY'S LARGEST BIKE SCAVENGER HUNT SERIES CELEBRATES A SUSTAINABLE, BIKE-FOCUSED LIFESTYLE
Longmont, CO – February 10, 2009 – Adventure Fit today announced that the seventh season of Urban Assault Ride, the largest bicycle-based adventure race series in the country, will hit the streets of 10 cities this year. The Urban Assault Ride (UAR) is a funky bike scavenger hunt that involves navigating city streets, taking on unique physical challenges, and an after-party. Weekend warriors, racers, bike commuters, couples and families unite as
teams of two take to the town by bike.
During the ride, checkpoint challenges may include power-sliding adult big wheels, face-first slip 'n slide action, or even jousting on BMX bikes. The challenges vary in each city, so participants never know what's in store. Prior to the event, checkpoints are listed on the event's website (www.urbanassaultride.com) so everyone has plenty of time to plot a course.
The first team to hit all checkpoints and complete the final obstacle course takes home a pair of New Belgium cruiser bikes. The top three teams in each of the four divisions will also receive awesome prizes. A celebration follows at the after-party with New Belgium beer and an interactive prize raffle with a host of two-wheeled shenanigans.
New Belgium Brewing, the Title Sponsor of the 2009 Urban Assault Ride, is well known for its love of all things bicycle and for its sustainable practices.
"We couldn't pick a better sponsor than New Belgium Brewing. They love bikes and beer just as much as we do and they've helped lead the charge with sustainable events. Because of New Belgium, the UAR is solar-powered, bio-diesel fueled, and almost zero-waste," said event founder Josh Kravetz.
The 2009 UAR schedule is as follows, adding three new cities to the roster:
4/19 Tucson, AZ NEW!
4/26 Nashville, TN NEW!
5/17 Seattle, WA
5/31 Portland, OR
6/28 Austin, TX
7/19 Fort Collins, CO
7/26 Denver, CO
8/16 St. Louis, MO NEW!
9/20 Minneapolis, MN
9/27 Chicago, IL
Adventure Fit and New Belgium Brewing are at the forefront of promoting the bicycle as alternative transportation, working hard to encourage folks to bike more and drive less. Sign up today at http://www.urbanassaultride.com and learn more about New Belgium at www.newbelgium.com. Join New Belgium's Team Wonderbike at www.teamwonderbike.com to make a pledge to offset car miles by simply riding a bike.
About New Belgium Brewing Company
New Belgium Brewing Company began operations in a tiny Fort Collins basement in 1991. Today, the third largest craft brewer in the U.S., New Belgium produces seven year-round beers; Fat Tire Amber Ale, Sunshine Wheat, Blue Paddle Pilsner, 1554 Black Ale, Abbey, Mothership Wit and Trippel, as well as a host of seasonal releases. In addition to producing world-class beers, New Belgium takes pride in being a responsible corporate role model with progressive programs such as employee ownership, open book management and a commitment to environmental stewardship. For more information, visit www.newbelgium.com.
About Urban Assault Ride
Urban Assault is the pedal-powered urban adventure produced by Adventure Fit Inc, a Colorado-based experiential sports marketing company that produces fun-focused events and sports teams. Adventure Fit events are unique in that they combine a variety of sports, fun, and physical challenges. Founded on the slogan "Come out and Play!", Adventure Fit has produced some of the country's most popular participatory sporting events, including the King of Jester and Fiesta de Bicilceta. Visit www.urbanassaultride.com or www.adventurefit.com for more information.