Upslope Brewing Wild Christmas Ale, Sixth Volume of Lee Hill Series
(Boulder, CO) – Upslope Brewing Company is proud to announce the release of the sixth volume of their limited Lee Hill Series – Wild Christmas Ale.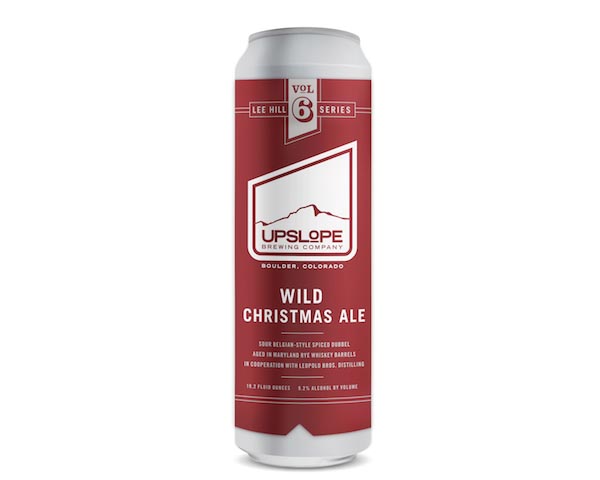 Upslope has transformed their popular Christmas Ale into a wild version of the holiday classic. Aged for 10 months in Leopold Bros. Maryland-Style Rye Whiskey barrels and their house sour culture, the Belgian-style spiced dubbel Wild Christmas Ale is a complex yet balanced blend of holiday spices, dark cherry caramel and whiskey-spiced oak. Mildly tart due to the Brettanomyces, this ale also boasts a slight chocolate finish and notes of candied orange. At. 9.2% abv, Upslope's Wild Christmas Ale is sure to bring you warmth and cheer this holiday season.
"Brewing a Wild Christmas Ale is a project I've wanted to pursue since I first tasted the Upslope Christmas Ale. I thought the unique spice character would work well with the funkier elements of Brettanomyces imparted by our house sour culture," said Upslope Head Brewer Sam Scruby. "Neatly wrapped with whiskey flavors and a touch of chocolate from the barrels, the Wild Christmas Ale is the perfect beer to cozy up with all holiday season long."
To celebrate the new release, Upslope will host a party at the Lee Hill tap room from 5:00 p.m. to 9:00 p.m. on Thursday, December 3, 2015. 19.2-ounce cans of the Wild Christmas Ale will be available for purchase for $10 (limit four cans per person). Upslope will also be showcasing their Limited Release Christmas Ale during the release party. Heirloom will be on-site serving up delicious local food truck eats during the event.
About Upslope Brewing Company
Boulder-based Upslope Brewing Company is the creator of premium ales and lagers that are artfully crafted using natural ingredients. Packaged in aluminum cans for exceptional portability, and because it's best for the environment, Upslope complements the outdoor lifestyle and caters to the on-the-go beer enthusiast. The five flagship beers include: Pale Ale, India Pale Ale, Brown Ale, Craft Lager and Imperial India Pale Ale. Additional installments are offered in a Limited Release Series, the Lee Hill Series and the Tap Room Series. In an ongoing effort to protect watersheds nationwide, and the key ingredient in Upslope ales and lagers, one percent of Upslope Craft Lager can sales benefits local Trout Unlimited chapters in the state in which the beer is purchased. Learn more about Upslope at www.upslopebrewing.com.