Upslope Brewing Co. Releases Limited Thai Style White IPA
(Boulder, CO) – Upslope Brewing Company, the Boulder-based brewer, today announced its latest Limited Release brew, Thai Style White IPA. Returning for the 5th consecutive year, the seasonal offering is a perfect candidate to accompany you on your summer adventures.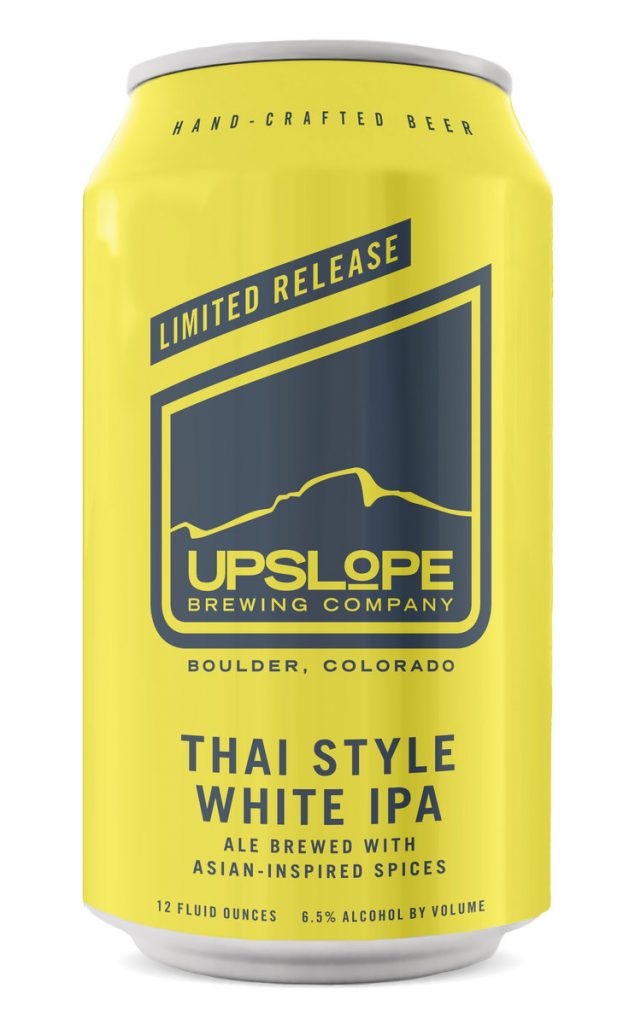 Drawing upon global inspiration, Upslope's Thai Style White IPA is an artful combination of uncommon, yet carefully chosen ingredients. Brewed using Belgian Wit yeast, hopped like an American IPA, and infused with seven Asian-inspired spices—including coriander, Thai basil, lemongrass and ginger—this beer is far from traditional. The sharp, juicy citrus notes of the hops interplay with the unique Thai spice blend to create an unexpected, one of a kind refreshment.
"Thai Style was originally developed from a collaborative discussion around a dinner table with Denver's Euclid Hall and Kitchen, years ago." said Upslope's founder, Matt Cutter. "Now a fan and brewhouse favorite, and an annual member of our Limited Release series, the beer captures the aroma and spiciness that usually accompanies rich Thai Cuisine, wrapped into a delicious white IPA."
Available now, while supplies last, Thai Style White IPA will be offered in 12-ounce cans at Upslope's two Boulder tap rooms and across Upslope's distribution region of the Rocky Mountains and southern United States.
Limited Release Thai Style White IPA
Stats: 6.5% ABV, 33 IBU
Aroma: Tropical Citrus, Spicy
Body: Light
Color: Bright Straw, Slightly Cloudy
Availability: Summer, starting Father's Day (June 18) – Thai IPA 6-packs on-sale in both Boulder-based tap rooms
Food Pairings: Pad Thai, Seafood
Distribution: Colorado, New Mexico, Arizona, Wyoming, Montana, Utah, Florida and online at Tavour.com.
In addition to the Thai Style White IPA, Upslope is proud to announce the latest installment of its small-batch Tap Room Series, a Blackberry Lemon Kettle Sour. Boasting a bright and beautiful red hue, with an aroma of dried thyme and sweet lemons, this beer exudes a clean and crisp tartness with a strong blackberry and lemon backbone. Originally developed by Upslope's tap room crew, this patio crusher is sure to please on hot days.
The 2018 Tap Room Series rotates regularly on tap at the brewery's two tap room facilities and is offered in 19.2-ounce cans. Be sure to enjoy Blackberry Lemon Kettle Sour while it's fresh and available, starting Tuesday, June 19 during Upslope's #TuesdayTapping.
About Upslope Brewing Co.
Boulder-based Upslope Brewing Company is the creator of premium ales and lagers that are artfully crafted using natural ingredients. Packaged in aluminum cans for exceptional portability and because it's best for the environment, Upslope complements the outdoor lifestyle and caters to the on-the-go beer enthusiast. The five flagship beers include: Citra Pale Ale, India Pale Ale, Brown Ale, Craft Lager, and Imperial India Pale Ale. Additional installments are offered in a Limited Release Series, the Lee Hill Series and the Tap Room Series. In an ongoing effort to protect watersheds nationwide, and the key ingredient in Upslope ales and lagers, one percent of Upslope Craft Lager can sales benefits local Trout Unlimited chapters in the state in which the beer is purchased.
upslopebrewing.com – @Upslope – facebook