Upland Brewing Teddy Bear Kisses Returns September
(Bloomington,CA) –
Upland Brewing Co.
announced today that Teddy Bear Kisses will be available on draught in select craft beer bars and in 4-packs throughout our distribution area on
September 15
. It will be on tap at Upland locations on
September 25
.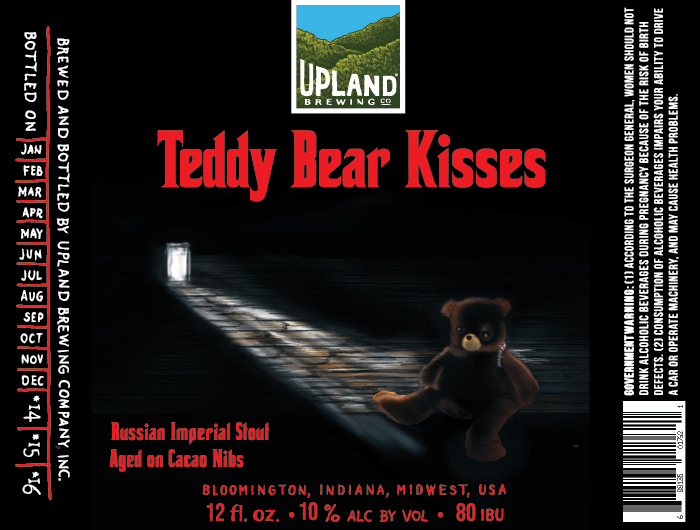 Beer Description:
A dark and robust beer brewed in the traditional stout method. Teddy Bear Kisses features an abundance of dark malts and high alpha hops for a powerful impact of roast, chocolate, and sweet bitterness. The lucky few who cuddle up to a warming session with Teddy Bear Kisses, can sense the velvety malt character, balanced bitter intensity, and soothing chocolate notes created by long aging on fair trade cocoa nibs. Teddy Bear Kisses won a Gold Medal in the 2010 World Beer Championships.
ABV: 10    IBU: 80    SG: 22.5    SRM: 47

About the Brewery:  Located in Bloomington, Indiana, Upland's rich history dates all the way back to 1998. Taking traditional recipes and making them a bit more awesome, Upland Brewing Co. came up with their own recipes rooted with inspiration from good beer and good friends, providing a fresh local option to their communities. The name Upland comes from the term geologists gave to this area of Southern Indiana land which was never overrun by the glaciers that flattened much of Indiana's landscape. The adversity of the land bred independent thinkers who had strong wills, a connection to the land, and a wry sense of humor about life. Upland's approach to brewing beer honors the spirit of these people and this place.