Upland Brewing Announces Dubbel Up Belgian Dubbel, Slated for 11/22 Release
(Bloomington,IN) – Upland Brewing Co. announced today that Dubbel Up Belgian Dubbel will be released on draught November 22 at Upland retail locations.
Beer Description: This is a strikingly beautiful beer with a deep copper hue and bold ruby highlights and a unique wine like dark fruit character that can only come from dark Belgian candi syrup. The aroma is alive with fruity esters, sweet malt, grape, and cherry. A pruny, figgy, flavor with moderate dark caramel notes hints at fruity sweetness followed by a clean dry finish.
ABV: 6.5 IBU: 20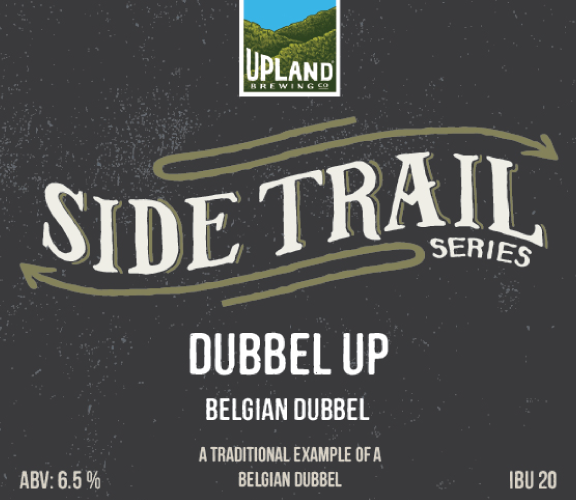 About the Brewery: Located in Bloomington, Indiana, Upland's rich history dates all the way back to 1998. Taking traditional recipes and making them a bit more awesome, Upland Brewing Co. came up with their own recipes rooted with inspiration from good beer and good friends, providing a fresh local option to their communities. The name Upland comes from the term geologists gave to this area of Southern Indiana land which was never overrun by the glaciers that flattened much of Indiana's landscape. The adversity of the land bred independent thinkers who had strong wills, a connection to the land, and a wry sense of humor about life. Upland's approach to brewing beer honors the spirit of these people and this place.
Other Upland Beers: VinoSynth Red (Gold and Best in Show 2014 Indiana State Fair, Malefactor (Gold Indiana State Fair), Sour Reserve (Silver Indiana State Fair 2014), Vinyl Tap (Silver Indiana State Fair 2014), Champagne Velvet (Silver Indiana State Fair 2014), Oktoberfest (Bronze Indiana State Fair 2014), Helios Pale Ale (Gold and Professional Best of Show 2013 Indiana State Fair, Gold 2011 BTI World Beer Championships), Upland Wheat (Gold 2011, 2010 Bronze 2006 Indiana State Fair, Bronze 2009 BTI World Beer Championships, Gold 2002 Great American Beer Fest), Schwarz (Gold 2013, 2012 Indiana State Fair, 2012 Best of the Midwest Dark Lager United States Beer Tasting Championship, Silver 2010 Indiana State Fair), Teddy Bear Kisses(Gold 2011, 2010 BTI World Beer Championships).
Website: uplandbeer.com