Updated Brewery List for WakeFest 2019, Limited Tickets Available
(Miami, FL) — J. Wakefield Brewing has released an updated list of brewers, food and apparel vendors that are participating in the fourth-annual WakeFest Invitational. The festival and anniversary celebration will take place at Mana Wynwood (318 NW 23rd St, Miami, FL 33127) on Saturday, February 2nd, from noon to 5:00 p.m.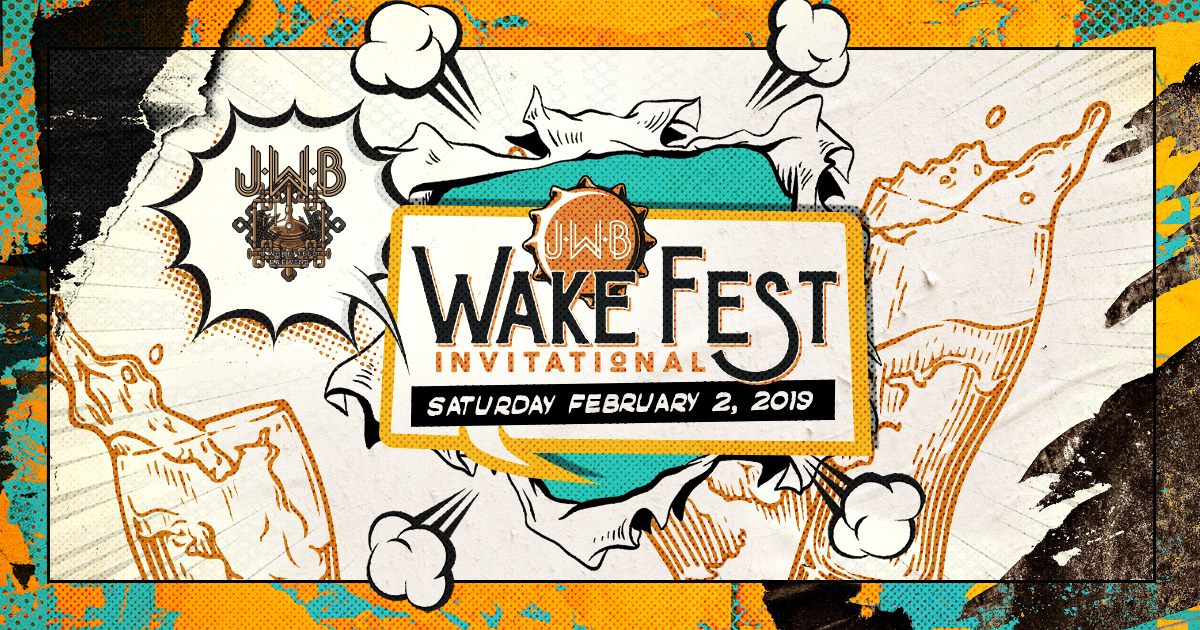 Considered my many craft beer enthusiasts to be South Florida's premiere craft beer event, WakeFest attracted over 2,200 attendees last year, including many who travelled to Miami, just for the event. This year's festival will feature over 120 independently-owned craft breweries from the US, Canada and Europe, including eight of the top-10 Best Brewers in the World, according to RateBeer.
Many of the area's most-popular food trucks and restaurants will also be there. Three craft beer apparel vendors will be offering exclusive festival merchandise.
$350 VIP tickets sold out in 10 minutes, last November. $75 general admission tickets are still available on www.jwakefieldbrewing.com
Breweries (confirmed but, subject to change)
18th Street
3 Chiefs
3 Stars
Against the Grain
Ale Farm
All In
Almanac
Alvarado Street
Ardent
Arizona Wilderness
B. Nektar
Bagby
Barrel Thoery
Barreled Souls
Barrier
Basqueland
Bellwoods
Blackberry Farms
Boneflower Mead
Bottle Logic
Brasserie Dunham
Brasserie Popihn
Brew Gentlemen
Brewski
Brouwerij West
Burial Beer Co.
Burley Oak
Buxton
Captain Lawrence
Carton
Casa Agria
Cellador
Cellarmaker
Cerebral
Charlestowne Fermentory
Cloudwater
Collective Arts
Courtyard
CRAK
Dancing Gnome
Deciduous Brew
Dry & Bitter
Dugges
EDGE Brewing
Edmund's Oast
Equilibrium
Finback
Foam Brewers
Forager
Forest & Main
Frederiksdal
Funk Factory
Garage Beer Co.
Good Beer Co.
Graft Cider
Great Notion
Green Cheek
Half Acre Beer
Hawkshead
Highland Park
Homage
Hoof Hearted
Horus Aged Ales
Hudson Valley
Interboro
Kings Brewing
La Debauche
LIC
Magnify
Malmo
Mikerphone
Misbeehavin' Meads
Modern Times
Moksa
Mondo
Moonlight Meadery
More Brewing
Mumford
Naparbier
NOLA
Northern Monk
O/O
Ocelot
Omnipollo
Other Half
Parish
Pohjala
Poppels
Prairie Ales
Pure Project
Sand City Brewing
Southern Grist
Southern Prohibition
Speciation Artisan Ales
Stigbergets
Stone Brewing
Superstition Meadery
Surly
The Bruery
The Lost Abbey
The Sour Note
The Veil
Threes
Trillium Brewing Co.
TRVE
Untitled Art
VooDoo
Weldwerks
Westbrook
Wren House
General Admission Food Vendors
Big O Smoke & Grill
Ms. Cheezious
The Avenue British Diner
Tacos & Tattoos
The Salty Donut
Harmless Harvest
VIP Food Vendors
Ariete
Edge Steak & Bar
Kaito
Stanzione 87
Brad Kilgore (concept)
Jimmy Lebron (concept)
Apparel Vendors
BrewHeads
BREWtiful Apparel
hopcloth
About J. Wakefield Brewing
J. Wakefield Brewing is Wynwood's only independently-owned craft brewery and taproom. J. Wakefield Brewing makes quality beers that don't always fit the norm. From their world-renowned sours to instant classics like El Jefe Coconut Hefeweizen and Hops 4 Teacher IPA, J. Wakefield Brewing crafts traditional styles while utilizing local and occasionally unexpected ingredients as well as flavor-enhancing techniques like barrel-aging, to give these styles a unique twist.
J. Wakefield Brewing is located at 120 NW 24th Street, Miami, Florida. For more information, please visit www.jwakefieldbrewing.com or like/follow JWB on Facebook, Twitter and Instagram @jwakefieldbeer